Historie / History
Psal se červen roku 1974, kdy do naší rodiny přišel dlouho očekávaný a vysněný zlatý kokršpaněl "Tom z Litavských Splavů".
I když v našich očích tehdy nejkrásnější, nikdy se však nezúčastnil žádné výstavy ani zkoušek, ale byl dobrým odrazovým můstkem pro dny příští.
Jeho dominatní povaha obvyklá u tehdejší populace kokršpanělů nejen u nás se pevně vepsala do naší mysli a vzpomínek. Naše společné soužití trvalo 13 let.
It was written June 1974 when long time expecting and dreaming gold cocker "Tom z Litavských Splavů"came - to our family.
Despite his no examination and visitation in exhibitions, he had been the most beautiful in our eyes and the best friend for the future.
His dominated characterhad been common for the population of cockers in those days-not only in our country- was deeply written to our minds and memories.
Our common life had been existed for 13 years.
.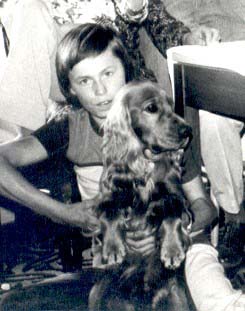 Ano, tak jsme oba v roce 1975 vypadali.
Veškeré negativní i pozitivní zkušenosti našeho společného dětství určili směr, kterým se snažím ubírat v chovu kokršpanělů až do dnešní doby.
All negative and positive experiences our common childhood gave the course, which I have been trying to use in breeding of cockers till how.
O to větší ambice měl splňovat jeho nástupce.
Díky "Tome"!!!!!
Thank you very much Tom !!!
Výstavní kariéra mých psů začala rokem 1987.Od této doby získali mí psi tyto výstavní výsledky:
Exhibition careers of my dogs have started in 1987.. Until the time they have odbtained this effect:
Interchampion
Izabel z Borové samoty, Aro´s Black Power, Aro´s Beefeater, Calm Soul Petrs, Funny Boy Petrs
Kent in Black Petrs, Chairman Petrs, Fuzberki Morvenny Back To Basic, Matchpoint´s Gazpacho
Backhillś I Like It, Earthly Look Black Petrs

International Show Champion
Backhillś I Like It, Doubtless Black Petrs, Honey Black Petrs

Champion
Wigo v. Rosengrund, Cloudy Look Petrs, Dainty Marcato Petrs, Edith Piaf Petrs
Genesis Moravia Petrs, Chairman Petrs, Italy Soul Petrs, Italy Iron Man Petrs, Kent in Black Petrs
Loverboy Petrs, Füzberki Morvenny Back To Basic, Matchpointś Gazpacho, Utterly Black Petrs,
Walker In Red Black Petrs, Woodman Black Petrs, Breeze Black Petrs, Doubtless Black Petrs,
Codger In Blue Black Petrs, Earthly Look Black Petrs, Dahlia Black Petrs, Backhills I Like It,
Honey Black Petrs, Joshua Black Petrs, Gainly Tan Black Petrs, Claramand High Flyer, Ebony Black Petrs,
Yap Black Petrs,

Juniorchampion
Calm Soul Petrs, Cloudy Look Petrs, Dainty Marcato Petrs, Funny Boy Petrs, Fergie Schönez Petrs
Genesis Moravia Petrs, Chairman Petrs, Italy Soul Petrs, Kent in Black Petrs, Kelly in Black Petrs, Loverboy Petrs
Ragazzo Black Petrs, Füzberki Morvenny Back To Basic, Power in Blue Black Petrs,
Matchpointś Gazpacho, Very Blue Black Petrs, Backhlls I Like It, Yeoman Black Petrs, Doubtless Black Petrs,
Earthly Look Petrs, Flover In Blue Black Petrs, Honey Black Petrs, Gainly Tan Black Petrs, Joshua Black Petrs,
Chance on Changes Black Petrs

CACIB
Ch. Wigo v. Rosengrund, Ch. Cloudy Look Petrs, Ch. Dainty Marcato Petrs, Ch. Genesis Moravia Petrs
Ch. Chairman Petrs, Ch. Italy Soul Petrs, Ch. Kent in Black Petrs, Conni ze Stříbrné uličky,
Jch. Füzberki Morvenny Back To Basic, Matchpoint´s Gazpacho, Walker In Red Black Petrs,
Backhills I Like It, Doubtless Black Petrs, Utterly Black Petrs, Breeze Black Petrs, Athos Black Petrs,
Earthly Look Petrs, Dahlia Black Petrs, Honey Black Petrs, Joshua Black Petrs, Claramand High Flyer

BOB
Ch. Wigo v. Rosengrund, Ich. Izabel z Borové samoty, Ich. Calm Soul Petrs, Ch. Cloudy Look Petrs,
Ch. Dainty Marcato Petrs, Ich. Funny Boy Petrs, Jch. Fergie Schönez Petrs, Ch. Italy Soul Petrs
Jch. Kelly in Black Petrs, Ich. Kent in Black Petrs, Jch. Ragazzo in Black Petrs, Ich. Chairman Petrs
Ich. Fuzberki Morvenny Back To Basic, Matchpoint´s Gazpacho, Very Blue Black Petrs
Walker In Red Black Petrs, Backhills I Like It, Doubtless Black Petrs, Yeoman Black Petrs, Yap Black Petrs
Breeze Black Petrs, Ebony Black Petrs, Earthly Look Petrs, Honey Black Petrs, Dahlia Black Petrs
Chance On Changes Black Petrs, Shavian As Promised, Claramand High Flyer, Joshua Black Petrs

BIG
Ch. Wigo v. Rosengrund, Ich. Aro´s Black Power, Ch. Füzberki Morvenny Back To Basic, Funny Boy Petrs
Ich. Kent in Black Petrs, Matchpoint´s Gazpacho, Backhills I Like It, Doubtless Black Petrs, Yeoman Black Petrs
Earthly Look Petrs, Honey Black Petrs

BIS
Ich. Funny Boy Petrs, Ich. Aro´s Beefeater, Jch. Matchpoints Gazpacho, Backhills I Like It,
Breeze Black Petrs, Doubtless Black Petrs, Yap Black Petrs, Honey Black Petrs

Junior BIS
Ch. Italy Soul Petrs, Jch. Ragazzo Black Petrs, Matchpoint´s Gazpacho, Very Blue Black Petrs,
Yap Black Petrs, Breeze Black Petrs, Honey Black Petrs, Joshua Black Petrs

Puppy BIS
Backhillś I Like It, Breeze Black Petrs

Baby BIS
Keaton Black Petrs
Junior World Champion Milano 2000, Europa Winner Poznan 2000, Europa Winner Budapest 2008
Jch. Füzberki Morvenny Back To Basic Joshua Black Petrs
Europa Junior Winner Barcelona 2004, World Winner Poznan 2006
Doubtless Black Petrs

Bundessieger
Ich. Aro´s Black Power(Dortmund 90), Doubtless Black Petrs(Tulln 04),Backhills I Like It(Tulln 05)
Claramand High Flyer(Tulln 08)

Bundesjugendssieger
Jch.,Ch.CZ Italy Soul Petrs (Dortmund 98 ) Matchpoint´s Gazpacho (Tulln 02),
Backhills I Like It(Tulln 03)
Naši psi byli vystavováni v těchto zemích:
Our dogs exhibited in these countries :
Belgie, Česká Republika, Chorvatsko, Dánsko, Finsko, Estonsko, Holandsko, Itálie, Lucembursko
Maďarsko, Německo, Norsko, Polsko, Rakousko, Slovensko, Slovinsko, Švédsko, Španělsko,